The PPI is an INDEPENDENT educational, not-for profit research institute. We undertake rigorous research from a neutral, long-term perspective
Reports
What is CDC and how might it work in the UK?
This report explores the defining features of Collective Defined Contribution (CDC) schemes, as well as the potential benefits they may offer and the hurdles they are likely to face in design and operation. It seeks to demystify CDC and the considerations which are likely to be important as it develops in the UK. This report has been sponsored by Royal Mail and the Defined Contribution Investment Forum (DCIF).

We are delighted to announce that on the 9th December 2019 this report was highly commended in the 2019 Savvy Investor Awards.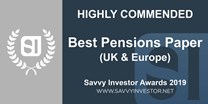 Join our mailing list
Signup to receive all the latest news from the PPI